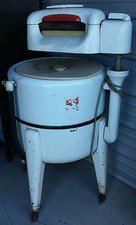 Sunday mornings I usually get up and do my laundry, and of course today being Sunday, I did so today.  It was a little easier than using the old wringer washer though.  I just put it in, and turned it on, and then later threw it in the dryer.
But I can remember Mom using one very similar to this, putting the powdered detergent in, not 
 the fancy schmancy liquid stuff like today.  Also adding bleach, and using clothes blue in those little blue cubes.  Who remembers that?!
Back then the old folks for some reason had certain days to do things, and if you didn't follow the routine, it was a source of something to talk about.  I guess gossip helped pass the time then as much as it still does now!  I remember Monday's were laundry days, and if you did some on another day, why, that was big news!  I can recall even now my Aunt Mary saying to me when I went down for a visit "My garr, your mothers got clothes on the line again today, how much does she wash at all!"
I guess for the older folks, in some cases routine was necessary, and useful for planning, and the more modern times of the late 60's and 70's were a bit much to handle :). We all know that the level of cleanliness has continually improved over the years, as we understand more about our health and disease.  Back in earlier days a bath once a week was a lot, let alone the daily or more showers of today, so likely clothes were changed less too!
But laundry then was also a big production, wheeling out the machine, hooking the hose to the sink, filling it with water.  Prescrubbing the really dirty items with the old scrubbing board in the tin wash tub, then putting it in the machine and letting it agitate for however long, then taking the clothes out and running it through the wringer, being careful not to lose an arm in there! Those things were dangerous! Once all that was done, you still had to take it out and put it on the clothesline.
We had the advanced technology of having the clothesline on a pully, so we'd just go to one spot, and pin it and wheel it out, but lots and lots did, and maybe still do (because lets face it, clothes off the line is STILL so much fresher than from the dryer), just had one strung across the garden, propped up by a board with a notch to keep it from dragging.  For those had the extra work of mucking the basket across the garden with them as the pinned it out.
And then of course after all was said and done, everything, or pretty much everything had to be ironed.  Sheets, shirts, pants, towels, face cloths, even underwear! It was all ironed, I think the only thing Mom didn't iron was socks!
The technology for washing has changed a lot over the years, and I'm sure more than I do it on other days than Monday, wonder if anyone has their line filled today?
Raised in outport Newfoundland in a town of 65 people, I pursued a post secondary diploma in Information Technology right out of High School.
I've always been a geek at heart, but yet I love the rural life I grew up with. Fishing, hunting, camping and the great outdoors are still loves of mine, even if I don't pursue them as often as I once did. Sports were always a big part of our lives, and I played many (badly) and loved them all.