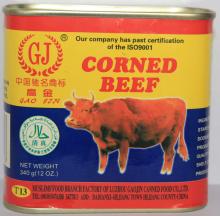 Growing up in Newfoundland, one of our staples of course was cod, and to keep it for winter, salt cod.  Cooking salt cod also generally led to fish cakes for leftovers, and these are still one of my favorite foods.
But another staple for many was canned corn beef, and corn beef hash.  Combining the ideas from these two staples leads to ….. Meat Cakes! Fry some onion, mash some left over potato, mix it with some canned corned beef, form into patties and fry, and yum! We'd generally serve with bread, mixed pickles, pickled beets.
This post brought to you by today's supper. 🙂
Raised in outport Newfoundland in a town of 65 people, I pursued a post secondary diploma in Information Technology right out of High School.
I've always been a geek at heart, but yet I love the rural life I grew up with. Fishing, hunting, camping and the great outdoors are still loves of mine, even if I don't pursue them as often as I once did. Sports were always a big part of our lives, and I played many (badly) and loved them all.